The Geary Brothers series book 1
I received a copy of this book for free through NetGalley
◊
This gif of Winston Bishop is the only commentary you need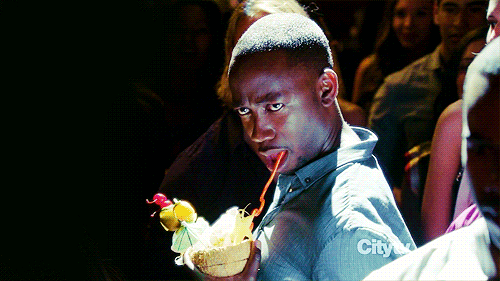 Note: contains explicit sex scenes
Olivia Gage is a top selling clean romance novelist, but wants to write erotica. Jack Geary leads the lifestyle that Olivia wants to write about. They start talking after a sarcastic written conversation over a review of a corset that he made and a book she wrote. Over time, they become friends and then he persuades her to spend a week with him. He reasons with her that if she hasn't experienced erotica first hand then how is she going to write about it.
Over the year that he has been in contact with her, he has told her exactly what he wants to do to her. She tells him she is married and that is why she won't succumb to his charms but she is not telling the full truth. Once Olivia reveals what the truth is to Jack, she stands no chance.
Our main girl Olivia is an author who is basically using our main man Jack as the basis of her research on how to write a compelling sex scene…let me just say that this book's author Grace Harper certainly knows how to do that. Hot damn! Jack is a willing participant in this research project of hers and he finds his own ways to ensure that she is getting the best out of their week together. From watching him have sex with another woman to taking her to a live sex show, he makes sure she sees all his world has to offer.
Jack and Olivia's chemistry is off the friggin charts and I really liked them as a duo. As much as this week together for them is about work – and Jack trying to seduce her – I felt like Jack really cared about her mental health and as such she ends up feeling comfortable enough to share her big secret with him. It is prefaced that Olivia is married and therefore she continually rejects Jack's advances, even if her body is telling her to do otherwise.
What we don't learn until later on is that Olivia's marriage is clouded with tragedy. Her husband was injured in an accident very early on in their relationship and was left unable to move or speak. In another sad turn of events, he passes away a month before she heads out to meet Jack for the first time. It is also later revealed that Jack himself is a widow and is able to empathise with Olivia in a way she had not anticipated.
By the time we get to this part of the story, it is very obvious that the mutual attraction these two share exists outside the realm of sex – though they are both very vocal throughout the book about how much they want to get naked with each other.
The only reason I'm not giving this 4 stars is because I felt that the characters turned from lusting over one another to being madly in love rather quickly. I will say though that there is a pretty cute ending and I will definitely be picking up the next book.
Find more reviews on Goodreads and check out Grace Harper's blog too.
Buy this book: