Full series review: books 1 – 3
*Contains minor spoilers – read with caution*
◊
The Little Mermaid aside, I think these may be my first under the sea adventures.
I ABSOLUTELY ADORE THESE COVERS – particularly books 2 and 3.
Given I read these in quick succession and don't really have enough to say about them individually, I've decided to lump all three books into one big review.
I definitely see why this series has received mixed reviews because it certainly isn't stellar storytelling, but I think I just picked these up when I needed them the most so for me, they were quite enjoyable.
Let's get this thing going.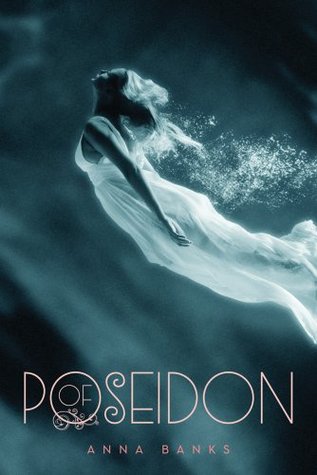 Book 1 – Of Poseidon
4 out of 5 stars
Galen is the prince of the Syrena, sent to land to find a girl he's heard can communicate with fish. Emma is on vacation at the beach. When she runs into Galen—literally, ouch!—both teens sense a connection. But it will take several encounters, including a deadly one with a shark, for Galen to be convinced of Emma's gifts. Now, if he can only convince Emma that she holds the key to his kingdom…
I was drawn hook, line and sinker into this story and this strange yet fascinating underwater world. Emma and Galen have this intense chemistry which is very off putting in the beginning however once their connection and Emma's knack for talking to fish is explained, all the pieces of why these two matter fall into place.
Galen is swoon worthy and slightly overbearing/jealous which could get a little old and frustrating. I reaaaaaaally liked Emma alot. She is headstrong, independent and full of sass – usually directed at Galen – and her good, albeit small, character development was quite intriguing. I have to say that her mother is one of my least favourite characters of all time and while I get why she does what she does, she unfortunately was never redeemed in my eyes.
Told from both main characters POV, we get some interesting, embarrassing and humorous insight into how both Emma and Galen come to develop a friendship and inevitable romance.
Book 2 – Of Triton
3.5 out of 5 stars
Emma has just learned that her mother is a long-lost Poseidon princess, and now struggles with an identity crisis: As a Half-Breed, she's a freak in the human world and an abomination in the Syrena realm below. Syrena law states that all Half-Breeds should be put to death.
As if that's not bad enough, her mother's reappearance among the Syrena turns the two kingdoms—Poseidon and Triton—against one another. Which leaves Emma with a decision to make: Should she comply with Galen's request to keep herself safe and just hope for the best? Or should she risk it all and reveal herself—and her Gift—to save a people she's never known?
Whoa, shit goes a little crazy in this one. Not as captivating as the first book, Of Triton sees our characters spending more time in Syrena where politics are causing issues and Galen and Emma are bearing the weight of the world.
What I did like about this book is that the problems are presented really early in the book so there is no real lull before the adventure begins. It was cool to get to see some of the underwater mermaid voodoo at work but I wish there would've been more of this to suit the pace of the story. There was also more weight put on to the relationship of other characters rather than focusing on developing Galen and Emma which lets be honest, is the whole reason I jumped to this book in the first place.
Book 3 – Of Neptune
3 out of 5 stars
Emma, who is half human and half Syrena, and her Syrena love, Galen, need time together. Alone. Away from the kingdoms of Poseidon and Triton. Emma's grandfather, the Poseidon king, suggests the two visit a small town called Neptune.
Neptune is home to both Syrena and Half-Breeds alike. But Emma and Galen didn't sign up to be peacemakers between the ocean-living Syrena and the land-dwelling, freshwater counterparts. They didn't bargain for meeting a charming Half-Breed named Reed, who can barely disguise his feelings for Emma. And they especially didn't expect to find themselves in the middle of a power struggle that threatens not only their love, but their ocean kingdoms.
And the rating goes down yet another half a point.
This is filled with yet another mini adventure that sees Galen and Emma – who are now very much loved up – checking out a new town and dealing with yet another issue. They just can't catch a break. Neptune was a pretty cool place but I'm not entirely sure if I really liked any of the characters there – even though some were pleasant while others were vindictive, they are pretty forgettable.
The pacing was a little slower in this book but I wouldn't say I noticed myself getting bored. We do get a happy ending and while I will say that I did enjoy the ride, I think these characters would've been better put to rest after book 2.
◊
Have you read any of this series? What'd you think?