You know what I'm bad at? Taking book recommendations at face value. I see a book and I think oh, this booktuber I like is loving this book, it must be good. Then i'll go on Twitter and see one of my favourite authors give a book 5 stars and I think damn, get this in your TBR stat. Finally, I'll check out Goodreads or some blogs and see a book that I'm not reading and think yo, don't be the only one not reading this; the fomo struggle is real.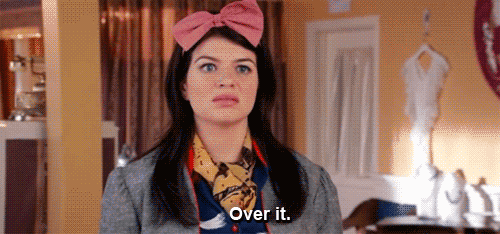 Unfortunately this has led me to pick up books that have left me frustrated and sad for days knowing my poor bank account has suffered.
You know what I'm talking about, it's those overhyped books that at one time or another, we've all hated while everyone else is raving about them. Below is a list of books that I thought were overhyped – granted this is just my opinion so what might seem like a shit storm to me, may be something you loved.
"If you wanted to, Safiya, you could bend and shape the world."
Truthwitch: Even though I didn't love this book, I still adore these covers. I want to like this book more than I want to like most things. I mean the queen Sarah J. Maas recommended it and from what I understand, she is close friends with the author and the two main characters are based off of them. It sounded like the perfect fantasy book…and then I started reading it. The writing in itself is great and I loved the Thelma and Louise-esque adventure the characters were embarking on but the magic was quickly lost, the characters became boring and this ended up hitting my DNF shelf.
"We are liars. We are beautiful and privileged. We are cracked and broken."
We Were Liars: I kind of get why this was hyped. I think at the time of it's release there was a mass influx of insta-love books so this was definitely different. The twists are there, the setup is captivating but the characters are the worst and if you really think about it, nothing really happens. I'm not going to spoil it because I do think that you should go into this book blind put people lost their shit over this book and to me it is just another pseudo psychological thriller filled with teen angst.
"My soul sees its equal in you."
Wrath & The Dawn: I can't even tell you that much about what happens in this book because it is that forgettable to me. I didn't even finish it. The characters are the worst – particularly Shahrzad – and I wish I would've spent a few hours staring in to the sun instead of picking this up.
"I like the night. Without the dark, we'd never see the stars."
Twilight: #teamjacobforlife Okay so with this one, I definitely get the hype – mainly because I watched the movies – but when I tried to read the books, it seemed like nothing more than a bunch of dribble. The characters were underwhelming, the romance was OTT and I felt like banging my head against the wall anytime Bella and Edward were in a scene together. It is actually one of the rare occasions where I prefer the movie to the book.
"The truth is what I make it. I could set this world on fire and call it rain."
Red Queen: I couldn't make it past the third chapter…twice. Enough said.
"Don't let me lose the part of me that makes me human."
The 5th Wave: After I read the Lux series by Jennifer L. Armentrout, I was in an alien frenzy. So when people were going ape shit about how mind blowing The 5th Wave was I thought YES, this is going to be my jam. Unfortunately I struggled through both the book and the audiobook. The story is pretty basic, the characters seem really bland and it felt like most of the book was pieced together by random action sequences and a sub-par romance. I will say though, that I really enjoyed the movie and I think the story translated well to that medium. So after my enjoyable movie experience I thought you know what, I'm going to pick up the sequel…and I couldn't make it past the first chapter. You get the drift.
"I declare after all there is no enjoyment like reading! How much sooner one tires of anything than of a book! — When I have a house of my own, I shall be miserable if I have not an excellent library."
Pride & Prejudice: Don't get me wrong, I do enjoy Jane Austen and Persuasion happens to be up there with some of my favourite classics, but I've never been able to drink from the Mr. Darcy kool-aid. Like most classics, I find the writing in this book to be overly pretentious and while there are certainly some quotable moments, the fancy dresses and the romance are not for me.
"I gasp, and I'm Eve in the Garden of Eden, and he's the serpent, and I cannot resist."
Fifty Shades of Grey: What? Look at that quote. I can't! Can someone tell me again why this was so popular? I'm not a prude and as a reader of erotica, I don't care if a whole book is just people have sex on every page. But if you're going to do that, make sure your characters resemble real people and your story actually has, you know, a story.
So that's that. These are my top overhyped books. Hopefully I didn't come off too harsh because I can certainly appreciate how hard it is to write a book, but when you don't like something, you don't like it – can't please everyone.
What's the book you consider to be completely overhyped?