The Conquerors Saga book 1
◊
If you meet Lada in a dark alleyway don't even bothering running, you're already dead.
Side note: It should be safe to say now that I received this book in the July YA Chronicles subscription box. If you haven't heard of them before, they are an Australian based subscription service offering amazing YA books and a bunch of bookish goodies. Each month has a new theme and the July box was Ladies who slay – Lada sure does slay!
No one expects a princess to be brutal. And Lada Dragwlya likes it that way. Ever since she and her gentle younger brother, Radu, were wrenched from their homeland of Wallachia and abandoned by their father to be raised in the Ottoman courts, Lada has known that being ruthless is the key to survival. She and Radu are doomed to act as pawns in a vicious game, an unseen sword hovering over their every move. For the lineage that makes them special also makes them targets.
Lada despises the Ottomans and bides her time, planning her vengeance for the day when she can return to Wallachia and claim her birthright. Radu longs only for a place where he feels safe. And when they meet Mehmed, the defiant and lonely son of the sultan, Radu feels that he's made a true friend—and Lada wonders if she's finally found someone worthy of her passion.
But Mehmed is heir to the very empire that Lada has sworn to fight against—and that Radu now considers home. Together, Lada, Radu, and Mehmed form a toxic triangle that strains the bonds of love and loyalty to the breaking point.
No need to wait for the review because here it is. Seriously team, read this fucking book!
I haven't watched The 100 in a long time but the entire time I couldn't help but picture Lexa as Lada. So complex. So badass. So fierce. So terrifying.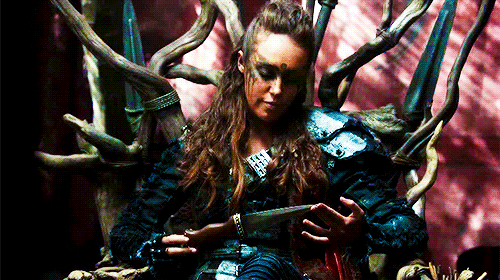 "Her spine was steel. Her heart was armor. Her eyes were fire."
Lada is a force of nature. Not wanting to be a victim to her gender, she sets out from a young age to be just as bold and smart as the men in her life. A product of her environment, she values her home land of Wallachia with the highest regard and sees protecting it as her ultimate life goal. When a series of events lead to her having to flee her home – thanks to a douchebag older brother and some political drama – Lada, her father and younger brother Radu find themselves travelling to a new land. And there our real adventure begins.
Can I just say that the dad is a complete and utter asshole but even in his darkest moments, I still caught a hint of pride at the warrior his daughter had become. This was an interesting relationship because it is very blatant that Lada, who is strong and independent, still associates some of her self worth to what her father thinks of her. Their relationship is tumultuous and in the end I wish there had been a little more resolution to their shared journey.
"The last time she was up here, she had been… staring up at the sky and dreaming of stars. Now, she looked down and plotted flames."
Lada and Radu quickly became one of my favourite sibling duos. Let's not mince words though – they are not your hugging or complimenting kind of family members because Lada spends a long period of time beating up Radu or saving him from bullies, and then beating him up. Still their dynamic, while very unique, is full of love and at the end of the day they are each other's person, through and through.
I was surprised at how young these characters are when the book starts and how young they are when it ends. I had expected for them to be about 17 from the outset but when we really hit the thick of the story, Lada ranges from 12 – 15 years old – at least that is how I remember it. To think of such a young person enduring so much because of not only her own fierce nature, but that of others was really intriguing. It ain't all rainbows and Barbie dolls for these kids!
The story really kicks up a notch when the duo meets a young boy named Mehmed, third in line to the throne and an all around witty soul. I can't even explain how much I love Mehmed and while I enjoyed him for everything that he is, it was his shortfalls and vulnerability around Lada and Radu – his truest friends – that made me crave his appearance on every page.
As they all embark on a shared journey, friendships are tested, lives are lost, revelations are made and allegiances are formed. From the blood shed to the romance, the crux of this is fast paced and mythical at its core. I could probably chat about this for a long, looooooooooong while so if you like great world building, badass females, deceptive characters and a well written story then don't miss out on this gem of a book.
2 bottle of wine, #AndIDarken and the train = me trying to act sober in public while reading the same paragraph over and over

— ThatWildSoul (@That_WildSoul) August 5, 2016
Finished #AndIDarken – @kierstenwhite nailed it & you should read it now! Fist bump for its epicness. pic.twitter.com/8RdCIPLRTu

— ThatWildSoul (@That_WildSoul) August 10, 2016
Find more reviews on Goodreads.
Buy this book: