Diversity Spotlight Thursday is a weekly meme hosted by Aimal and its aim is to shed light on diverse literature. Every week, you come up with one book in each of three different categories: A diverse book you have read and enjoyed, a diverse book on your TBR, and one that has not yet been released. You can check out the announcement post for more information.
Title images below were stolen from Aimal's blog because they are dope.
I'll Give You The Sun by Jandy Nelson
Jude and her twin brother, Noah, are incredibly close. At thirteen, isolated Noah draws constantly and is falling in love with the charismatic boy next door, while daredevil Jude cliff-dives and wears red-red lipstick and does the talking for both of them. But three years later, Jude and Noah are barely speaking. Something has happened to wreck the twins in different and dramatic ways . . until Jude meets a cocky, broken, beautiful boy, as well as someone else—an even more unpredictable new force in her life. The early years are Noah's story to tell. The later years are Jude's. What the twins don't realize is that they each have only half the story, and if they could just find their way back to one another, they'd have a chance to remake their world.
I remember when I first picked this up that I thought it was a little slow, but before I knew it I was fully engrossed with both of these kids and their story arcs. The characters in this book are really well developed and you can't help but root for both of them to find their happy ending. The writing in itself was a little choppy at times but I can't be mad at a book that had me hook, line and sinker. Also, that cover! I love things that have so much colour on them so I would've picked this up over cover and hype alone.
♥ ♥ ♥ ♥ ♥ ♥
Symptoms Of Being Human by Jeff Garvin
The first thing you're going to want to know about me is: Am I a boy, or am I a girl? Riley Cavanaugh is many things: Punk rock. Snarky. Rebellious. And gender fluid. Some days Riley identifies as a boy, and others as a girl. The thing is…Riley isn't exactly out yet. And between starting a new school and having a congressman father running for reelection in uber-conservative Orange County, the pressure—media and otherwise—is building up in Riley's so-called "normal" life.
On the advice of a therapist, Riley starts an anonymous blog to vent those pent-up feelings and tell the truth of what it's REALLY like to be a gender fluid teenager. But just as Riley's starting to settle in at school—even developing feelings for a mysterious outcast—the blog goes viral, and an unnamed commenter discovers Riley's real identity, threatening exposure. Riley must make a choice: walk away from what the blog has created—a lifeline, new friends, a cause to believe in—or stand up, come out, and risk everything.
I initially clicked on this because I was intrigued by the title and the subtle cover – I was then overwhelmed by the synopsis. I've had a quick browse through some of the reviews already up on Goodreads and it looks like this has had some great reviews already with many mentioning it represents gender fluidity in a realistic and not at all demeaning way.
♥ ♥ ♥ ♥ ♥ ♥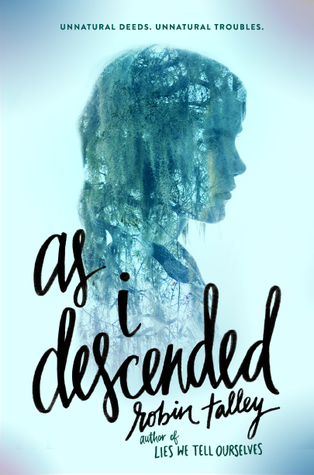 All I Descended by Robin Talley
This has a super looooooooong synopsis so you may have to check it out on Goodreads for the full breakdown.
Maria Lyon and Lily Boiten are their school's ultimate power couple—even if no one knows it but them. Only one thing stands between them and their perfect future: campus superstar Delilah Dufrey.
Maria and Lily will stop at nothing to ensure their victory—including harnessing the dark power long rumored to be present on the former plantation that houses their school. But when feuds turn to fatalities, and madness begins to blur the distinction between what's real and what is imagined, the girls must decide where they draw the line.
Look at this cover, look at it! I will admit that I hadn't heard of this book until I started searching for diverse books that were coming out shortly, but as soon as I saw Robin Talley's name I was instantly into it. This is a Macbeth retelling and I am excited to see what Talley has done to bring Shakespeare to life in this new setting. Released 6th September.
♥ ♥ ♥ ♥ ♥ ♥