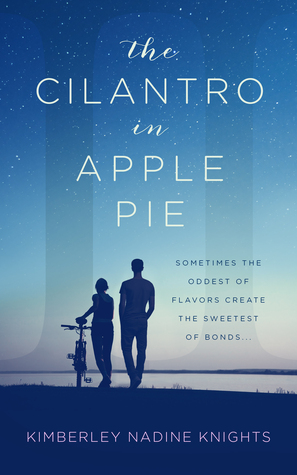 I received a copy of this book for free from the author (many months ago!) in exchange for an honest review.
Sorry for taking so long to read this Kimberley. I'm glad I managed to get to it though because it is stunning.
◊
Quick fire review
This book is just as quirky and wonderful as its title. At its core, this is a story about friendship and you will love getting to know Rubie and Gil as you navigate their relationship. With characters who are have as much heart as they do wit, this is a YA contemporary novel that shouldn't be missed.
Fragnut. Confused? Well so is everyone else at Lumiere Hall Prep when sixteen-year-old Rubie Keane rolls in from Trinidad and Tobago talking her weird lingo. Not that she minds the culture confusion; she's determined to leave the past behind her and be overlooked—but a certain stoic blue blood is equally as determined to foil her plans.
Gil Stromeyer's offbeat personality initially makes Rubie second-guess his sanity, but she suspects his erratic outbursts of violence mask a deeper issue in his troubled, charmed life. Despite his disturbing behavior, a gradual bond forms between the two. However, on the night of the annual Stromeyer gala, events unfold that leave Rubie stripped of her dignity and kick Gil's already fragile world off its axis.
Both their well-kept secrets are uncovered, but Gil's revelation proves that sometimes the best remedy for a bad case of lost identity, is a dash of comradery from an ally packed with flavor.
I've found yet another favourite opening to a book. This sets the tone for the character of Rubie perfectly and gets you ready for a fun read.
All I could think of as I felt the wheels of that Boeing 767 lift off the tarmac was that if I died, the pamphlet at my funeral service would be so lame.
You know what I enjoyed most about this book? It is a story about friendship. Sure, there is some flirty undertones thrown in for good measure, but at the heart of this story there is Rubie and Gil, living life and making waves. I loved how complex these characters were and I really enjoyed getting to know their every flaw.
Both Rubie and Gil are dealing with some very heavy issues that they of course keep from one another. I really like that these issues were used to build on the already strong friendship these two had developed and when things come to a head, Rubie and Gil were able to lean on one another. They are each other's person and I am all for that.
The writing in this is just fantastic. The author has managed to craft these big characters and place them in this small town without suffocating their light. You can't help but be drawn into their friendship and into the walls of Lumiere Halls Prep from the very first page. I loved the language in this too. From slang I couldn't comprehend to quirky moments between these two kids, every little detail added to the story and made the characters more well rounded.
With some diverse characters and a friendship at the helm, this is a heartwarming read that will make you feel good until the very end. Do yourself a favour and grab a copy of this book.
Find more reviews on Goodreads.
Buy this book: