I saw this tag over on Between Folded Pages blog. If you haven't checked it out before, you must head over and follow.
Halloween isn't a huge holiday here in NZ but I still love it. I love horror movies, wearing costumes, eating candy and listening to classic horror jams.
Also, Hocus Pocus!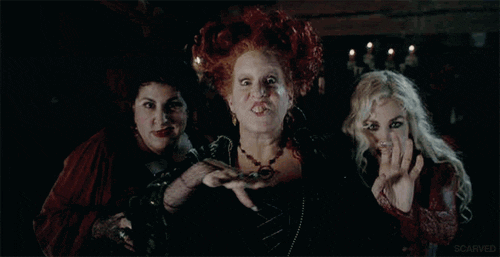 1. Favorite Halloween song?
It may not be scary, but it is an amazing classic.
2. Witch or Vampire?
Wiches are so much cooler than Vampires because duh, magic. Plus they don't have to drink blood which I think would be a lot nicer.
3. Favorite thing about Halloween?
Horror movies and cute kids in 'scary' costumes. Trick or treating is very rare around where I live but it is still pretty cute when a little pirate or zombie rocks up at your door.
4. Halloween party or scary movie marathon?
Scary movie marathon followed by a Halloween party haha. My friends throw a raging Halloween party every year that is kid friendly until 9 and utter chaos after that. My friends and I watch horror movies before we rock up ready to party.
5. Skeletons or Zombies?
Zombies. I have to agree with Stephanie because The Walking Dead is absolutely fantastic.
6.Favorite Halloween candy?
I don't know if we have any Halloween specific candy but I too enjoy a candy apple.
7. Favorite Halloween movie?
All of the Nightmare on Elm Street movies. Freddy Krueger is my fave horror villain and I love all of the originals, the remake and the Freddy vs. Jason crossover. I'm also partial to Japanese horror movies because their folklore makes everything all the more eerie.
Give me all the horrors!
8.Favorite Halloween costume?
When I was at Uni, there were 2 that have long been my favourite: a rubix cube and a car. While most of the girls were slutting it up (and looking hot!), my friend and I grabbed cardboard boxes and decided to recreate some childhood costumes. It was a messy night and it wasn't long before our costumes were covered in booze and destroyed.
9.Favorite Halloween store?
No real Halloween stores around here but there is a discount store called Geoff's Emporium that
10. Jack-o-lanterns, yes or no?
Yes. Our neighbour puts them out every year and they look amazing. I'm all for it.
11. Bats or Black Cats?
Cats, all day every day.
12. Is Halloween your favorite holiday?
Only in that I love horror movies but because it isn't huge here, I can't say it is my most anticipated holiday.
13. Pumpkin spice latte or hot chocolate?
Hands down, hot chocolate is a year round favourite.