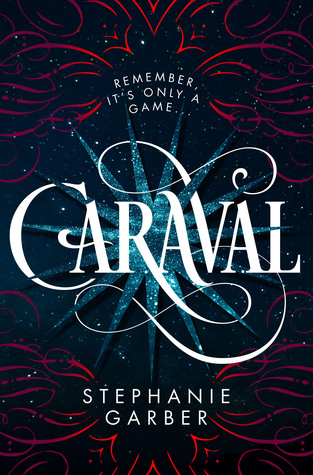 I received a copy of this book for free from the publisher via NetGalley in exchange for an honest review
◊
Quick fire review
This cover.
This book.
All the stars in the universe go to this book. All of them.
The world building in this is phenomenal and the characters will take you on one amazing journey. Highly recommend to every young adult fantasy lover and those that think magic is dope!
Scarlett has never left the tiny island where she and her beloved sister, Tella, live with their ruthless father. Now Scarlett's father has arranged a marriage for her, and Scarlett thinks her dreams of seeing Caraval, the legendary, once-a-year performance where the audience participates in the show, are over.
Then, Scarlett's long-dreamt of invitation to Caraval finally arrives. So, Tella enlists a mysterious sailor's help to whisk Scarlett away to this year's show. But as soon as the trio arrives, Tella is kidnapped by Caraval's mastermind organizer, Legend.
Scarlett has been told that everything that happens during Caraval is only an elaborate performance. But she nonetheless soon becomes enmeshed in a game of love, heartbreak, and magic with her sister, with Legend, and with the other players in the game. And whether Caraval is real or not, she must find Tella before the five nights of the game are over, a dangerous domino effect of consequences is set off, and her sister disappears forever.
I've read some wonderful books this year, but this is by far the best book I've read in 2016…and it doesn't come out until 2017. Go figure.
"Whatever you've heard about Caraval, it doesn't compare to the reality. It's more than just a game or a performance. It is the closest you'll ever find to magic in the world."
Here is what you need to know about this book in a nutshell – it is fucking amazing and you need to read it.
To stop myself spoiling everything, here are some quick thoughts.
World building:

Holy shit can Stephanie Garber create some vivid settings. I was completely taken with this world and no detail is left unturned. This is a visually stunning book and I can still clearly picture Caraval in all its glory. Even the little hand written letters give this world some added depth that serves the story and these characters perfectly.

Characters:

I was a little up in the air about Scarlett in the beginning but within the first 30 pages, I was all about her and rooting for her to find some adventure. Her sister Tella comes off as a little brat in the beginning but it isn't long before you see her true nature. From Julian, Dante, Legend and more, each character is perfectly executed and used brilliantly to bring this vibrant world to life.

Relationships:

Scarlett and Julian were an intriguing match from the beginning. They have some undeniable chemistry but many secrets plus a misguided attempt to help by Tella sees these two having to not only overcome their own feelings, but some crippling obstacles as well.

Caraval:

I need to visit somewhere as twisted, exciting, mysterious and full of life as this place.

Writing:

I've just found my new go-to author. The writing in this is absolutely stunning and the narrative flows with ease. Garber has managed to give a completely unique premise an otherworldly presence.
With so many twists and turns to keep you on your toes, you won't be able to put this book down. Do yourself a favour and pre-order this baby.
Find more reviews on Goodreads.
Buy this book:
The world building in #Caraval is slaying my life! Get this on your TBR @SGarberGirl Thanks for the ARC @HachetteAus #currentlyreading pic.twitter.com/HI6Rdi8dhg

— ThatWildSoul (@That_WildSoul) September 27, 2016