I saw this tag over on Thrice Reads. Mean Girls is still one of my all time fave movies so I thought this would be a fun time.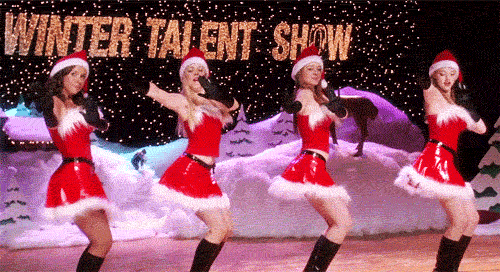 1. "It's pronounced like Cady" – Which fictional character's names did you get completely wrong?
Hermione is still the only one that comes to mind. Took a while to figure that one out.
2. "She doesn't even go here!" – Which character would you like to place in a fictional world from another book or series?
I'd love to put Bill Compton (vampire) from the True Blood series into the Twilight world and see what he thinks of these somewhat timid glittery vamps.
3. "On Wednesdays we wear pink!" – Repetition. Repetition. Which book gave you dejavu of another book whilst reading it?
Caraval has some similar qualities to The Night Circus. Both are completely unique but I couldn't help but notice similar themes.
4. "You all have got to stop calling each other sluts and whores. It just makes it okay for guys to call you sluts and whores." – Which book gave you the complete opposite of girl power feels?
Shit. There is a book on the tip of my tongue that came out in the last year and the girl was just waiting for a man to save her. It received a lot of praise and I couldn't finish it because I thought she was a little weak. I know it isn't much to go on but if you figure out the title from my vague description, 10 points to you haha.
5. "You go Glen Coco!" – Name a character you felt like you wanted to cheer on whilst reading.
Willowdean from Dumplin'. I was on her team from the start and just wanted her to keep pushing on and shutting down the haters.
6. "Get in loser, we're going shopping!" – How long do you typically spend at a book shop?
Time ceases to exist when I'm in a book shop. Anywhere from an hour to three hours – depends on if I'm alone or with someone else.
7. "It's not my fault you're like in love with me or something!" – Which character would have to take out a restraining order on you if they were real?
I'm going to have to go with Rhysand as well. Hot, loyal, mischievous and a High Lord – yes please!
8. "I can't help it that I'm popular." – Which overhyped book were you cautious about reading?
The Cursed Child. I ended up reading this about 2 weeks after it was released and torn to shreds. Luckily I had read all about it by then because I ended up loving it!
9. "She's a life ruiner. She ruins peoples lives." – We all love Regina George. Name a villain you couldn't help but love.
Sebastian from The Mortal Instruments. He added so much exciting drama to the Shadowhunter world and while he was certainly despicable, I was all for his antics.
10. "I'm not like a regular Mom, I'm a cool Mom." – Your favourite fictional parents.
The parents from Aristotle and Dante Discover the Universe. So witty and so supportive. Also Molly and Arthur Weasley, duh.
11. "That is so Fetch!" – Which book or series would you love to catch on?
I want more people to read The Ascendence Trilogy because it is just fantastic! I don't know if it is already super popular but it isn't one I see pop up too often.
12. "How do I even begin to explain Regina George?" – Describe your ideal character to read about.
Witty, smart, passionate about a hobby (music, art etc.) and down for an adventure.
13. "Nice wig Janice, what's it made of?" "Your Mom's chest hair!" – Which characters one liners would you love to claim for your own?
Aelin from the Throne of Glass series – I'd just love to be able to deliver badass one liners convincingly.
14. "Boo, you whore." – Name a time a character's decision has made you roll your eyes.
Anytime a character, who is destined to save the world, stops to make out with someone right before they slay a beast. KISS AFTERWARDS PLEASE!
—
So I'm not sure if you are supposed to nominate anyone for this, but I am going to leave it open to anyone who wants to give it a go – or needs a filler post haha.