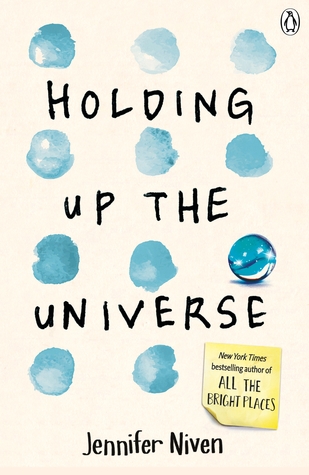 I received a paperback copy of this from Penguin Random House NZ in exchange for an honest review
◊
Quick fire review
This has just secured a place in my top 10 reads for 2016
I don't want to overhype this book, but I just want you to know that I think this is fantastic!
Jennifer Niven has crafted dynamic characters that will give you all the feels and placed them in a contemporary setting that brings out the best and worst of both Libby and Jack. If you give one book a go this year, make it this one.
Everyone thinks they know Libby Strout, the girl once dubbed 'America's Fattest Teen'. But no one's taken the time to look past her weight to get to see who she really is. Since her mum's death, she's been picking up the pieces in the privacy of her home, dealing with her heartbroken father and her own grief. Now, Libby's ready: for high school, for new friends, for love, and for EVERY POSSIBILITY LIFE HAS TO OFFER. I know the part I want to play here at MVB High. I want to be the girl who can do anything.
Everyone thinks they know Jack Masselin too. Yes, he's got swagger, but he's also mastered the art of fitting in. What no one knows is that Jack has a secret: he can't recognize faces. Even his own brothers are strangers to him. He's the guy who can re-engineer and rebuild anything, but he can't understand what's going on with the inner workings of his own brain. So he tells himself to play it cool: Be charming. Be hilarious. Don't get too close to anyone.
Until he meets Libby. When the two get tangled up in a cruel high school game which lands them in group counseling, Libby and Jack are both angry, and then surprised. Because the more time they spend together, the less alone they feel. Because sometimes when you meet someone, it changes the world – theirs and yours.
So I thought I was just going to sit down and read a chapter or two of this before bed…cut to three hours later where my eyes are falling out of my head and I've just devoured one of the best books of 2016.
"We're all weird and damaged in our own way. You're not the only one."
I fell in love with Jack and Libby and you will too.
Jack and Libby are two high school students that I found to be incredibly vibrant. While they seem to have very little in common when we first meet them, it isn't long until they begin to learn more about one another and find that they are more alike than they think.
What I really enjoyed about this relationship is that it didn't feel forced. While horrendous circumstances may have led them to being thrown together, the way in which they share their vulnerabilities and help each other cope with inevitable high school drama felt really organic.
5 stars alone goes to author Jennifer Niven's stellar writing. Both characters take you on a soulful journey and Niven has taken great care to writing two young adults that embody both heart and grace.
The use of alternating POVs to tell this story was brilliantly executed and didn't feel choppy or pretentious. Each chapter gives the reader better insight into each characters internal monologue while naturally progressing their personal relationships with friends, family and each other.
"Dear friend, You are not a freak. You are wanted. You are necessary. You are the only you there is. Don't be afraid to leave the castle. It's a great big world out there. Love, a fellow reader"
This is a great YA contemporary that looks at love, family, acceptance, bullying, friendships and everything in between. I highly recommend it to everyone who loves books populated with great characters and enjoys a slightly more complex story line – you won't be sorry you picked this up.
I haven't read All The Bright Places but I will definitely be picking it up after discovering how glorious Niven's writing is.
Find more reviews on Goodreads.
Penguin Random House NZ Twitter
Buy this book:
Came home to #bookmail @PenguinRandomNZ you are getting a Christmas card this year! Diving into these ASAP pic.twitter.com/VnaDB7E2Iu

— ThatWildSoul (@That_WildSoul) October 6, 2016
Just devoured #HoldingUptheUniverse in one sitting – officially in my top 10 for 2016. Review to come @jenniferniven @PenguinBooks_NZ pic.twitter.com/2Lh4Sw3vay

— ThatWildSoul (@That_WildSoul) October 30, 2016