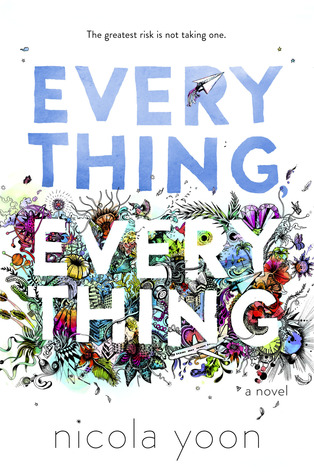 "Everything's a risk. Not doing anything is a risk. It's up to you."
Quick fire review:
Round of applause for Nicola Yoon, this book was absolutely fantastic!
I ended up devouring this in one sitting because every page was as delicious as the last. The last part of this book is everything.
My disease is as rare as it is famous. Basically, I'm allergic to the world. I don't leave my house, have not left my house in seventeen years. The only people I ever see are my mom and my nurse, Carla.
But then one day, a moving truck arrives next door. I look out my window, and I see him. He's tall, lean and wearing all black—black T-shirt, black jeans, black sneakers, and a black knit cap that covers his hair completely. He catches me looking and stares at me. I stare right back. His name is Olly.
Maybe we can't predict the future, but we can predict some things. For example, I am certainly going to fall in love with Olly. It's almost certainly going to be a disaster.
4.5 out of 5 stars
That. Cover. Is. Fucking. Beautiful!
I'm a sucker for a great cover and a sad yet sweet story.
"My disease is as rare as it is famous"
Madeline has been cooped up in her house for 17 years thanks to a life threatening disease which has shot her immunity to shit. Maddy is content with her life for the most part having daily interactions with her nurse Carla and her mum, but it is when a sweet and sexy Olly moves in next door that her life starts to take on new meaning.
Side note: Where do all of these swoon worthy boy next door types reside? Let me tell you they were not by me growing up.
"As much as I'm trying to keep the world out, it seems determined to come in"
I really loved Maddy and Olly as a unit and individually. They are both smart, witty, nervous and inquisitive characters that balanced each other perfectly. Through some sneaky interactions thanks to Carla and some natural chemistry, we get to watch these two develop a friendship and fall in love in a completely unique way.
The writing in this is beautiful and at times is completely lyrical. Yoon has done a wonderful job of pulling on your heartstrings. I really enjoyed the addition of the LIFE IS SHORT spoiler reviews by Madeline chapters where she would break down books she was reading throughout the story into one sentence reviews. They served as a great little insight into her wit and emotions at any given moment.
The last part of this book was both sad and uplifting. I know some people had a problem with the wrap up but it was personally one of my favourite parts. No spoilers so you will have to check it out for yourself.
Did you know this is going to be a movie? Check out the trailer below. I don't know about you, but I am pretty keen on watching this cute love story unfold on screen. Also, Nick Robinson got hot. Just saying.