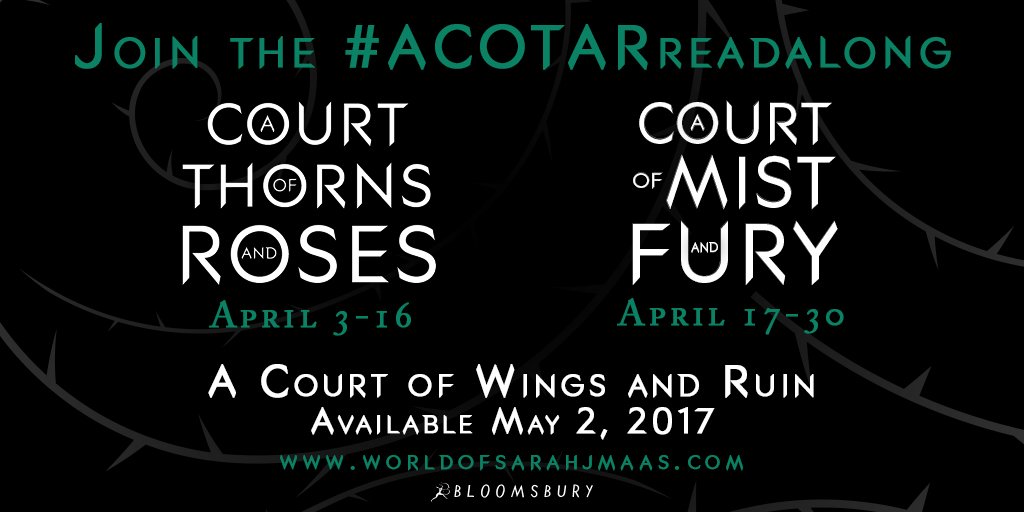 The team at Bloomsbury are hosting a readalong for the A Court of Thorns and Roses series before the release of the third book in May.
If you haven't picked these up yet but have been thinking about it, I highly recommend either joining this or doing it in your own time. These books are so well written and are incredibly addictive. You won't be able to resist Feyre and her world. Book two, ACOMAF, is a massive step up from the first book and I have no doubt that the third, ACOWAR, is going to be epic!
Be sure to use the hashtag #ACOTARReadalong if you do join in to chat to others who love the series too. I will be joining in later in the month to read ACOMAF and get my self ready for May.
If you want to check out what I thought, here are my reviews. Note that these do contain spoilers so read at your own risk – I couldn't contain my fangirl word vomit for ACOMAF.
Will you be joining in? Are you looking forward to ACOWAR? Let me know.
Haven't read @sjmaas's A COURT OF THORNS AND ROSES yet? Now's your chance! Join our #ACOTARreadalong this month! pic.twitter.com/49RibtuT9x

— BloomsburyUS Kids/YA (@bloomsburykids) April 3, 2017