Diversity Spotlight Thursday is a weekly meme hosted by Aimal and its aim is to shed light on diverse literature. Every week, you come up with one book in each of three different categories: A diverse book you have read and enjoyed, a diverse book on your TBR, and one that has not yet been released. You can check out the announcement post for more information.
Click the covers to go to the Goodreads page of that book.
Title images below were stolen from Aimal's blog because they are dope.
Amir is the son of a wealthy Kabul merchant, a member of the ruling caste of Pashtuns. Hassan, his servant and constant companion, is a Hazara, a despised and impoverished caste. Their uncommon bond is torn by Amir's choice to abandon his friend amidst the increasing ethnic, religious, and political tensions of the dying years of the Afghan monarchy, wrenching them far apart. But so strong is the bond between the two boys that Amir journeys back to a distant world, to try to right past wrongs against the only true friend he ever had.
The unforgettable, heartbreaking story of the unlikely friendship between a wealthy boy and the son of his father's servant, The Kite Runner is a beautifully crafted novel set in a country that is in the process of being destroyed. It is about the power of reading, the price of betrayal, and the possibility of redemption; and an exploration of the power of fathers over sons—their love, their sacrifices, their lies.
---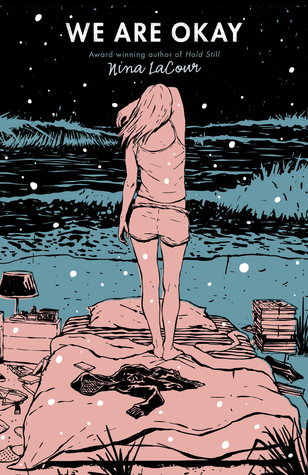 Marin hasn't spoken to anyone from her old life since the day she left everything behind. No one knows the truth about those final weeks. Not even her best friend, Mabel. But even thousands of miles away from the California coast, at college in New York, Marin still feels the pull of the life and tragedy she's tried to outrun. Now, months later, alone in an emptied dorm for winter break, Marin waits. Mabel is coming to visit, and Marin will be forced to face everything that's been left unsaid and finally confront the loneliness that has made a home in her heart.
---
Dylan doesn't have a lot of experience with comfort. His room in the falling-down Village Estates can generously be categorized as "squalid," and he sure as hell isn't getting any love from his mother, who seemed to—no, definitely did—enjoy the perks that went along with being the parent of a "cancer kid."
His only escape has been in the form of his favorite video game—World of Warcraft—and the one true friend who makes him feel understood, even if it is just online: Nuba. And now that Dylan is suddenly in remission, he wants to take Nuba on a real mission, one he never thought he'd live to set out on: a journey to a mysterious ship in the middle of the Salton Sea.
But Nuba—real-life name Arden—is fighting her own battles, ones that Dylan can't always help her win. As they navigate their way west, they grapple with Nuba's father (who refuses to recognize his daughter's true gender), Dylan's addiction, and the messy, complicated romance fighting so hard to blossom through the cracks of their battle-hardened hearts.